DIY Christmas Trees: 35 Creative And Useful Ideas For Anyone Who Wants To Innovate But Doesn't Want To Spend A Lot Of Money
By Precious I October 12, 2022
---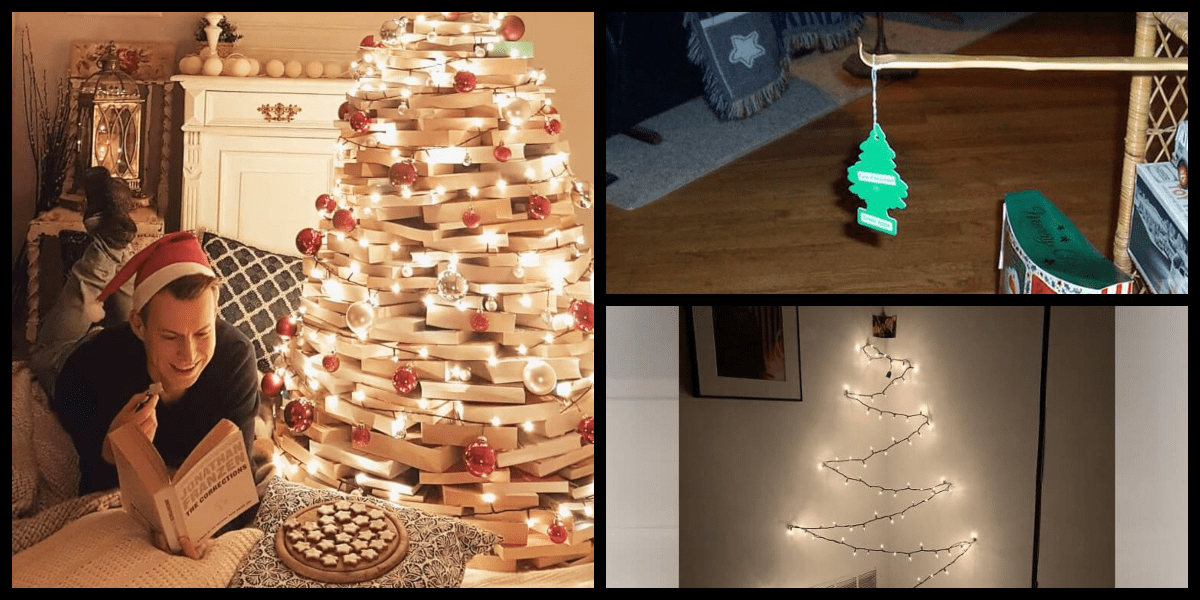 Is Christmas still Christmas if there isn't a picture-perfect Christmas tree? With a year as exceptional as this one, why not cap it off with a flair? Like most people, you've probably been having trouble deciding on a Christmas tree theme this year. This list will help you discover unusual Christmas tree ideas for the holiday season.
Depending on your décor taste, various options, from toppers to unique decorations, will combine well with the overall appearance of your space. Traditional styles with tinsel and ball ornaments are popular. Still, there are unusual Christmas trees for every taste that will make a statement – from Grinch-themed decorations to trees constructed out of books!
We can't get enough of the inventive new ways individuals worldwide decorate their homes with handcrafted Christmas trees. They are all unique, regardless of the materials used to create them. Here are some of these trees.
Sith-sational Christmas
For years, families have brought Christmas decorations to their homes to adorn with lights and decorations. With Christmas approaching, many people have opted to celebrate by changing their trees into characters from the movies, and the results are fascinating. It doesn't make much sense, but it's a lot of fun.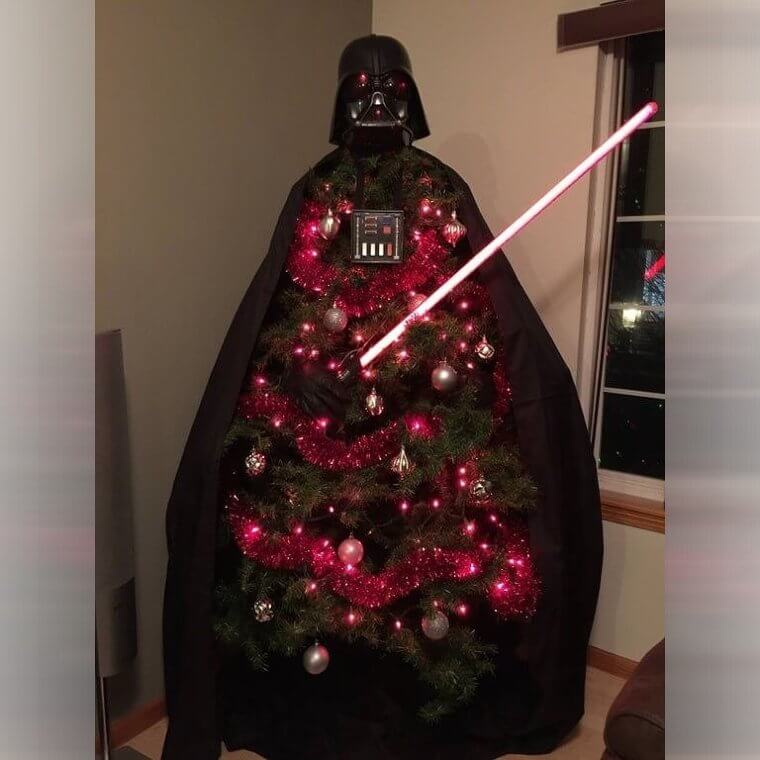 Imagine what extra fun it would be if you had a Star Wars-themed tree. The idea is to purchase another tree and Darth it up rather than buying a special Darth Vader tree off the shelf. By the way, Darth Vader wishes you a very Merry Christmas.
The Winter Neutral Tree
How awesome is this macrame tree? It will look great hanging on your Christmas tree and will last for years! Add this artistic touch to your Christmas decorations this year. Macrame has a plethora of decorating techniques, so hurry and develop one.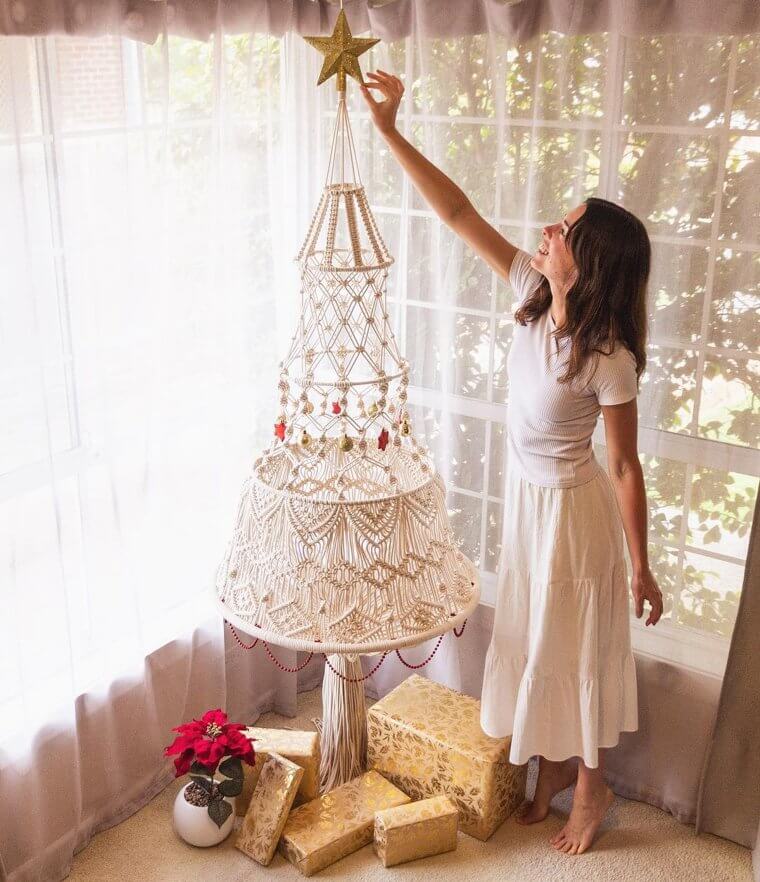 Make the most exquisite handmade Christmas lace ornaments for a more nostalgic touch in your home's Christmas decorations this season. Because of their neutral hue, we don't believe they're overly "Christmassy." Maybe they can be preserved in a vignette throughout the winter, like another winter-like décor.
Christmas At White Castle
Do you have more decor ideas than your usual tree can hold? Or are you letting go of a Christmas tree entirely? This interesting Christmas decoration is simple to make with boxes of similar shapes and colors or, like the creator, similar brands. If you dine out frequently, this is a good option.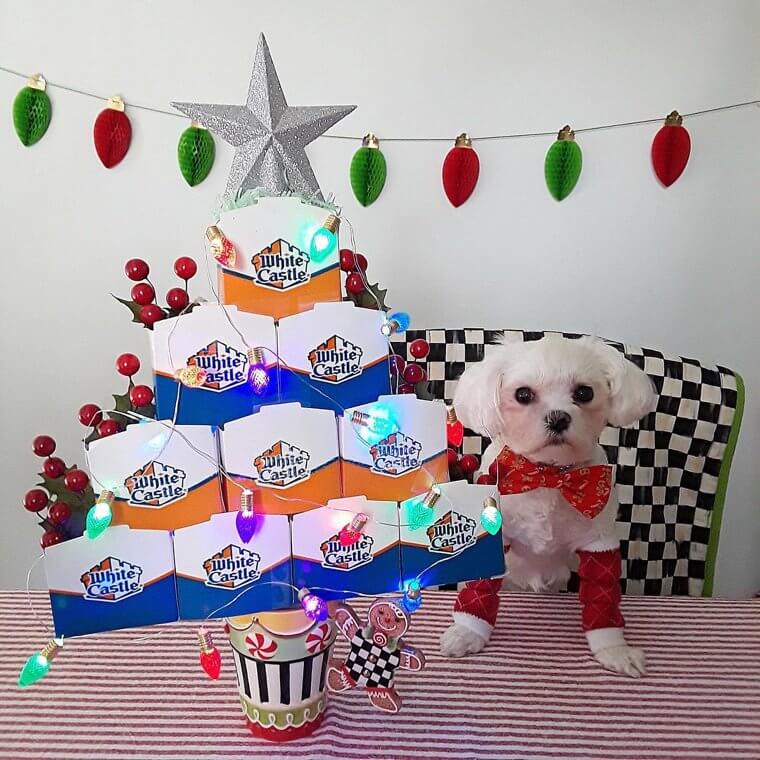 It is really eye-catching and not your average Christmas tree design. It's also probably a good idea to attach the boxes and star decorations together just in case the wind chooses to test your patience. You may get bonus points if you place tiny presents inside.
A Fairy Kiddy Christmas
These parents appear to be decorating their houses for the holidays to infuse brightness into the year, combining their two favorite things – Barbie and Christmas. Nothing beats a Barbie-decorated Christmas tree throughout the holiday season. If you're looking for the cutest tree to bring home, this is the right-themed three.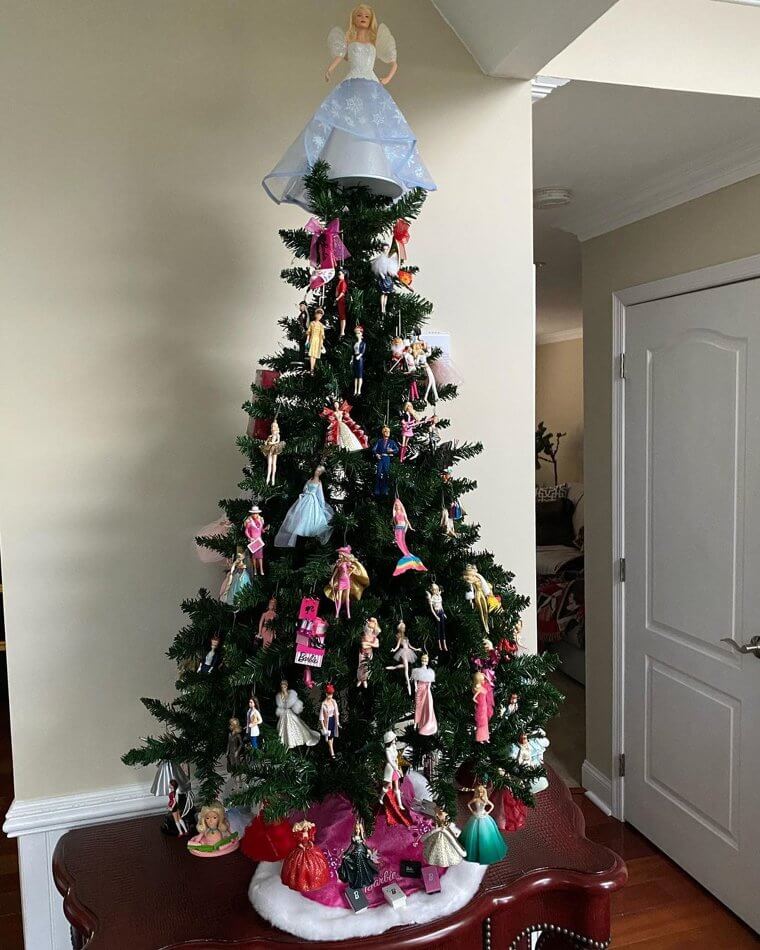 Your children will awaken to discover a swarm of dreamy princesses in their midst from an unknown source. When your kids behave well, this one is sure to spread fairy Christmas charm around the house, so using it to promote good conduct is a great idea.
A Super Christmas
If your family enjoys comic books, this Christmas tree motif could be for you! A simple superhero-inspired Christmas tree is the ideal suggestion for a spectacular Christmas décor. The use of Marvel and DC as decorations quickly conveys what this tree is all about.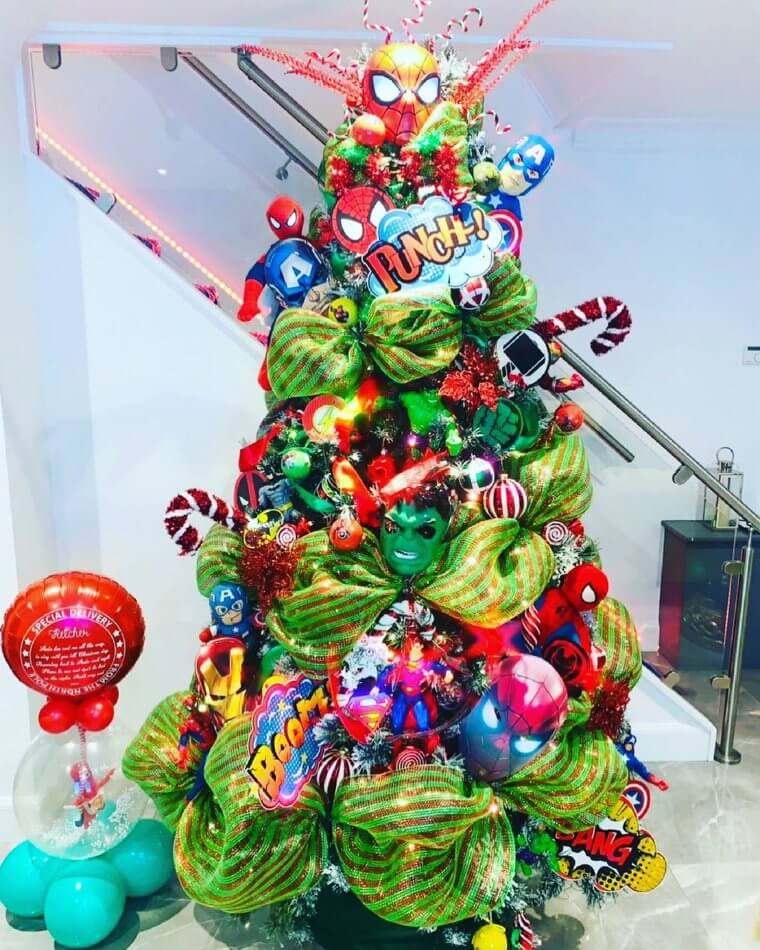 Incorporating the heroes and villains across the branches enhances the superhero element of the tree. Top it up with some dramatic lights, then, to complete the beautiful effect, fill up the spaces with gold and silver ornaments and tree picks. Go out there and save the planet… from Christmas monsters!
This Tree Blue Us Away
The holiday season is almost approaching, and while you presumably already have your tree set up, you might not if you're anything like us. Here's for those who haven't decided on holiday decorations yet. Comfortably transform your regular Christmas tree into Cookie Monster with nothing more than blue paint and a few plastic balls.
One family designed this year's holiday look, and it's just stunning! Aneesah, a Facebook user and craft whiz, created this design, and she did an amazing job by painting a fake tree blue! This tree is cleverly DIY from head to…well, the cookie jar.
Dreamy Christmas
So much effort and detail went into the décor of these Christmas trees because they're stunning. To get the full effect from this one, make sure you stare carefully. On one side, we have the towering image of the evil Queen staring at us. On the other side is the gorgeous Cinderella.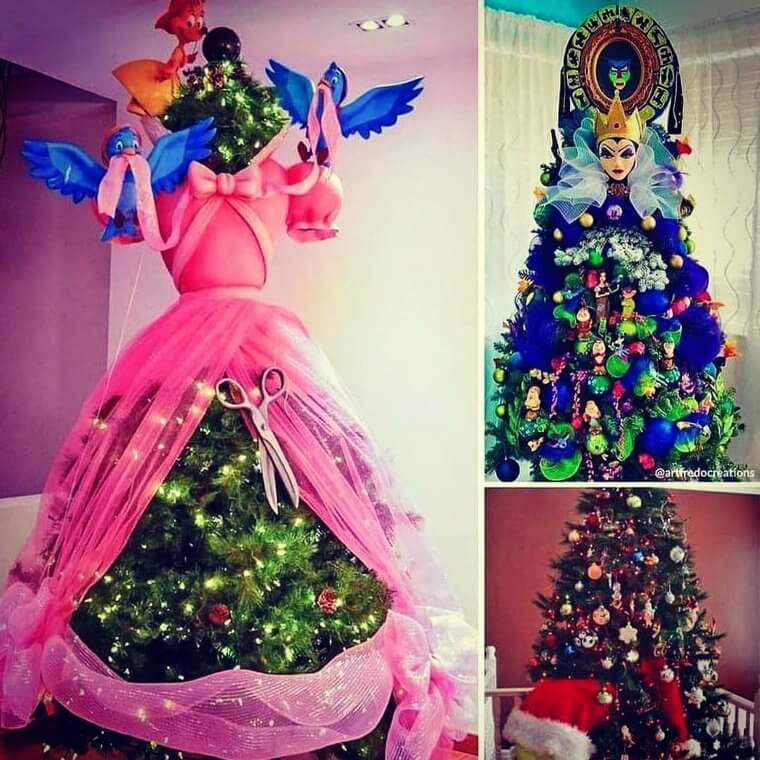 Just look at it; you'd certainly evoke your inner Cinderella when making this magnificent work of art equipped with adorable animal companions! Though it is not as festive as the other options, this tree is a princess's dream come true.
A New Portal for Christmas
Here's another art show created specifically for the holiday season! You could opt for the Portal Christmas Tree concept if you want something more than silver tinsel, fairy lights, and ornaments. Get all your decorations out and pretend you're in a music video impersonating Beyoncé.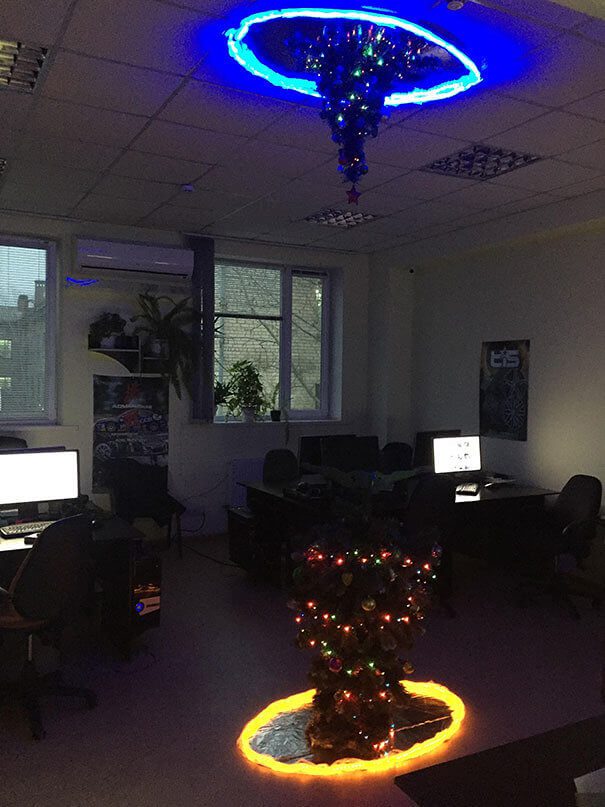 This idea was initially carried out in 2012. It involves the bottom of an artificial Christmas tree hanging to the ceiling. At the same time, the top third is fixed on the floor, giving the illusion that the tree is passing through a portal. This way, it's safe from the kids…and pets!
Christmas In Braids
Consider adding Christmas hairstyles to your list in the spirit of the season. Ditch the regular pine trees; after all, the holidays are the ideal time to switch up your go-to messy buns and ponytails for something a bit more festive.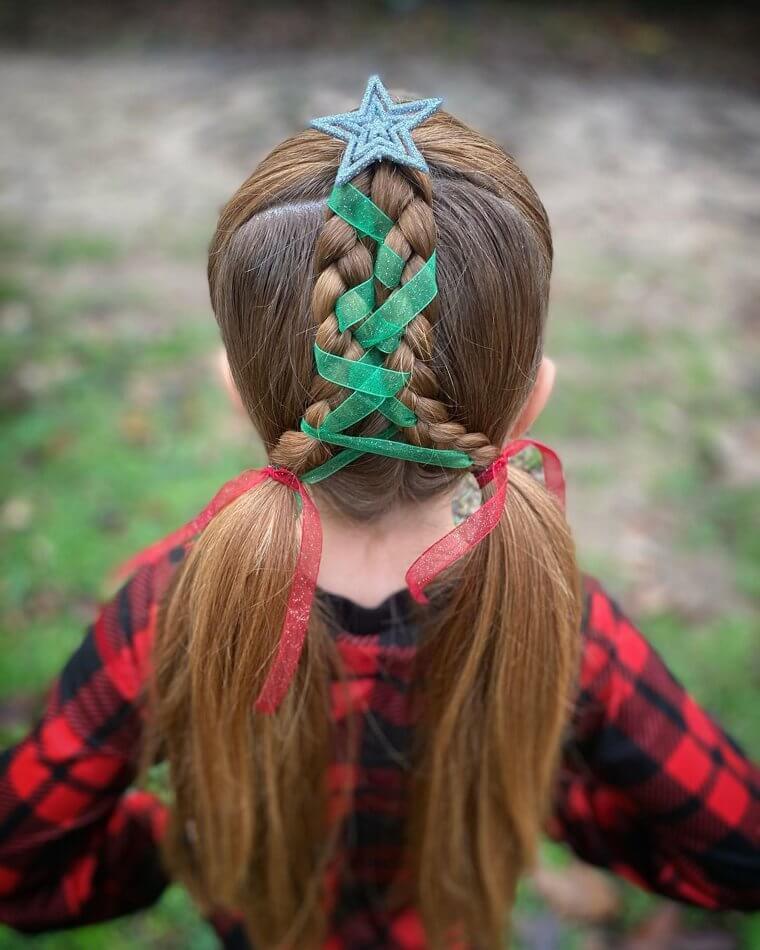 You'll need to pull together some festive looks, preferably one you can carry about instead of a traditional tree. So, walk into a salon, get a gorgeous pigtail, and style it with a green ribbon woven in between. Top it with the jolly old star and classic red ribbons to complete the Yuletide look.
The Uninviting Tree
For many people, Christmas decorations are associated with having a tree to put decorations on. And, while you might not be able to fit a standard-sized tree into your apartment, an alternative tree can make your house seem Christmas-y while taking up little space.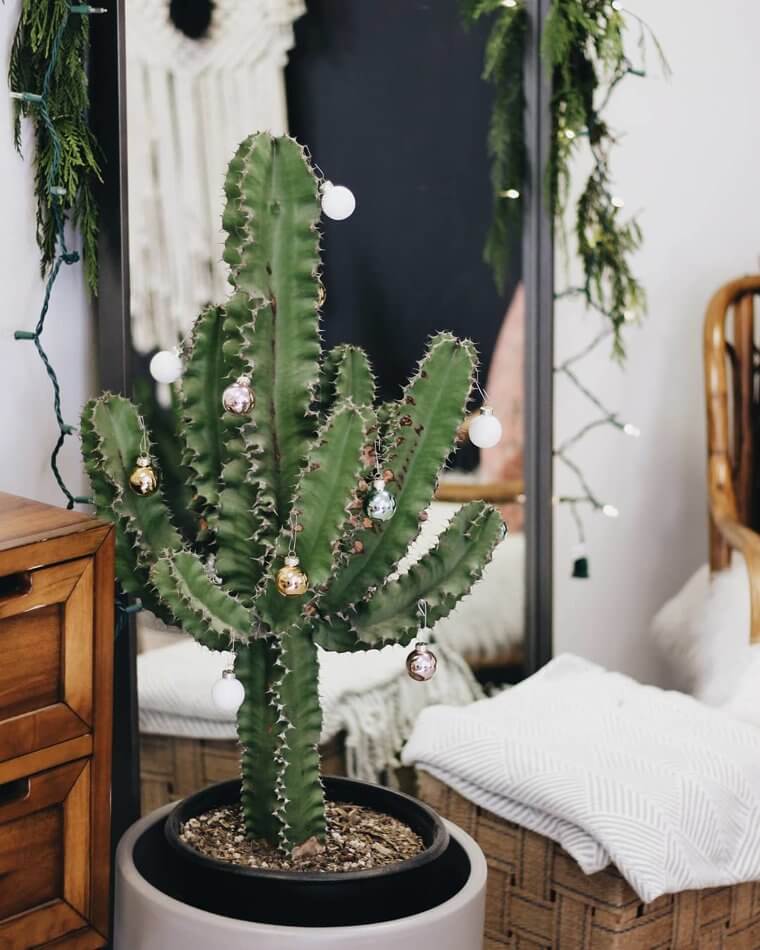 Not all wacky Christmas trees must be beautiful, inviting, or socially appealing. It might be helpful to have one that is traditionally untouchable. So instead of using a pine tree for a Christmas tree, why not use a cactus? The tree may then be decorated with faux greenery and additional string lights.
Pump The Gloves
Let us raise a glass to whoever came up with the genius idea of making a Christmas tree out of gloves. Inflating dozens of gloves must certainly have been stressful as well as enjoyable. Combining them to imitate a tree shape that glows green is also a clever move!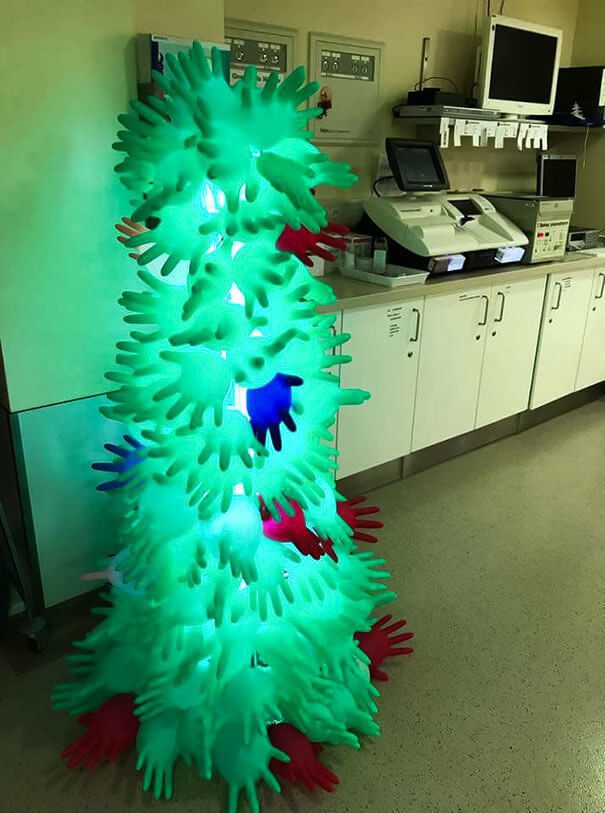 Suppose you work in an office. In that case, you're probably aware of how much fun it is to celebrate the holidays with coworkers. So, go ahead, you 9-5er, get the gloves pumped! This is the perfect touch for a chemical-based or nursing Christmas, with a touch of red and blue gloves substituting as ornaments.
The Tree Who Saw It All
Hold up! This may be one of the wittiest tree ideas on our list. In the spirit of Yuletide, why stress yourself out by constructing a tree when you can do all of your holiday decorations with a single tool?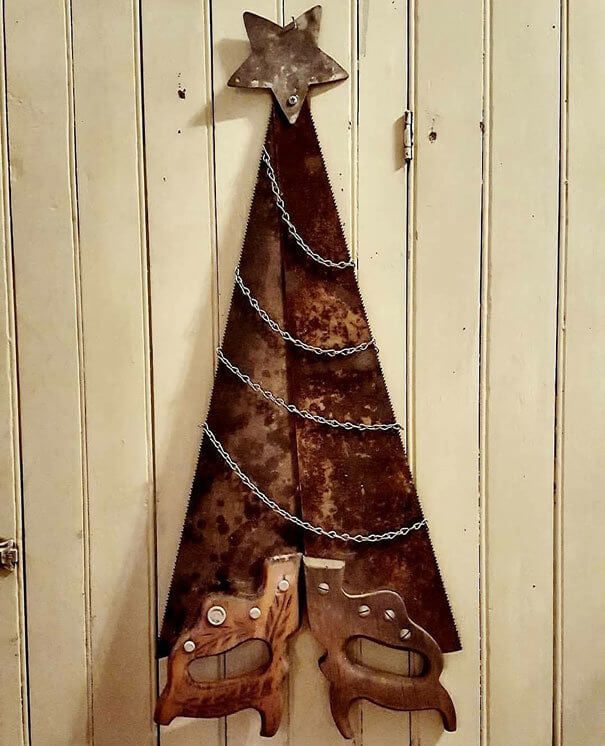 A few pointers: Use extreme caution when making your "saw tree," and keep the completed product out of reach of children. Please keep this one outside and fasten it to the wall. It should also have a rusty star on top (you can replace it with a more glistening one).
The Paw-Fect Tree
Consider this. According to your cat, a Christmas tree could be the nicest gift ever. Hopping! Climbing! Nibbling at decorations! In other words, unless your cat is old, frail, or overweight, it is unrealistic to expect it not to try to climb the tree and play with the ornaments.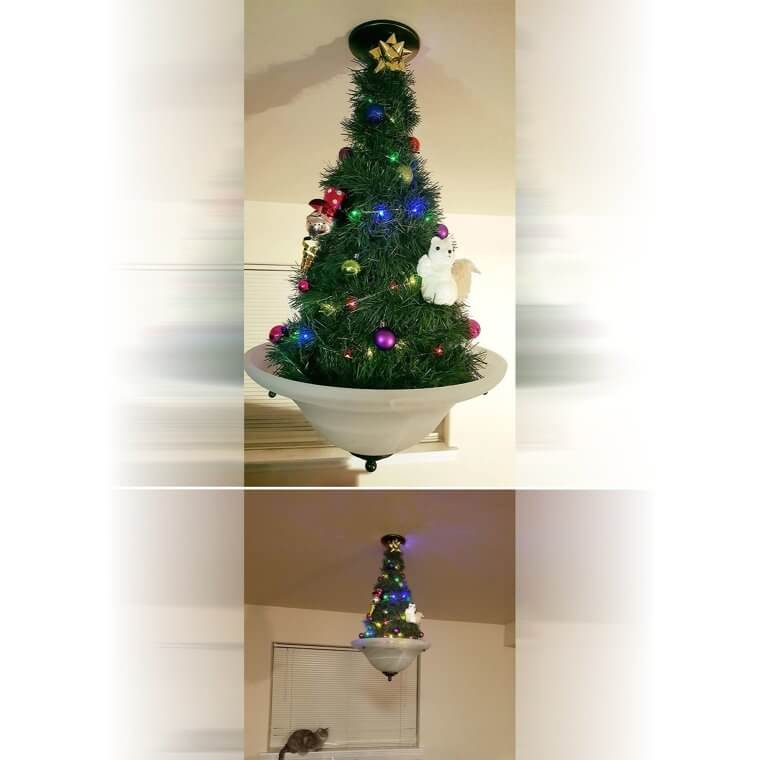 Surprisingly, this cat-themed tree is also intended to be cat-proof! They earn a bonus for their intelligence and inclusiveness. People with these envious paws know that a conventional Christmas tree is a tempting playground. This cat owner has opted to reduce damage by suspending their tree from the ceiling as part of the setup.
Have Yourself a Techy Little Christmas
Have a techy Christmas this year by putting nothing too fancy on your tree. We're not sure which we like better: the 404 alerts on the tree or the fact that this individual assembled a Christmas tree by his desk! You get more points if you don't have any decorations in the room.
We admire it as much as we find it amusing. This huge IT tree has no designs and is a blend of laziness and innovation. If you want bright colors, this is not your go-to décor. However, we believe it is unique enough to be included on our list.
A Bookworm's Holiday
A book tree like this is a good idea if you don't want a whole room filled with unutilized books. Don't forget to add lights and a topper to make it obvious that this is a tree and not simply a stack of books!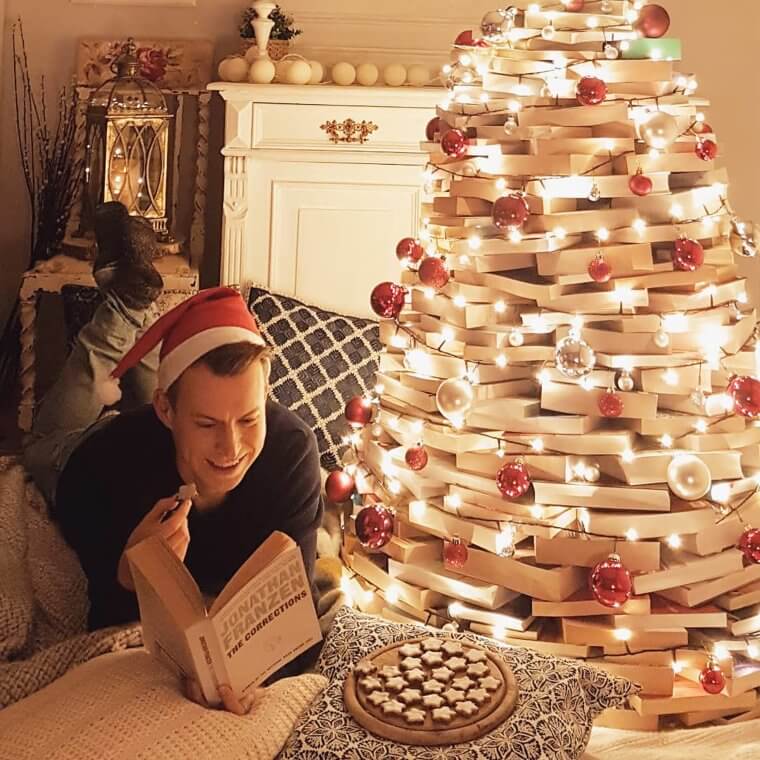 If you have a lot of extra books, you can build a phenomenally tall book Christmas tree! Small ball ornaments, candy canes, and candles complete the aesthetic of this beautiful Christmas tree! Although this version is lovely, we do not suggest it for houses with pets or children.
Cozy Vintage Christmas
Crochet Christmas tree ideas are incredibly flexible and allow for a great deal of creativity. Throw on some balls, lights, or snow, change the height, and add a jar, vase, pot, or whatever bottom…the choices are unlimited. We would rate this as the most comfortable tree on the list.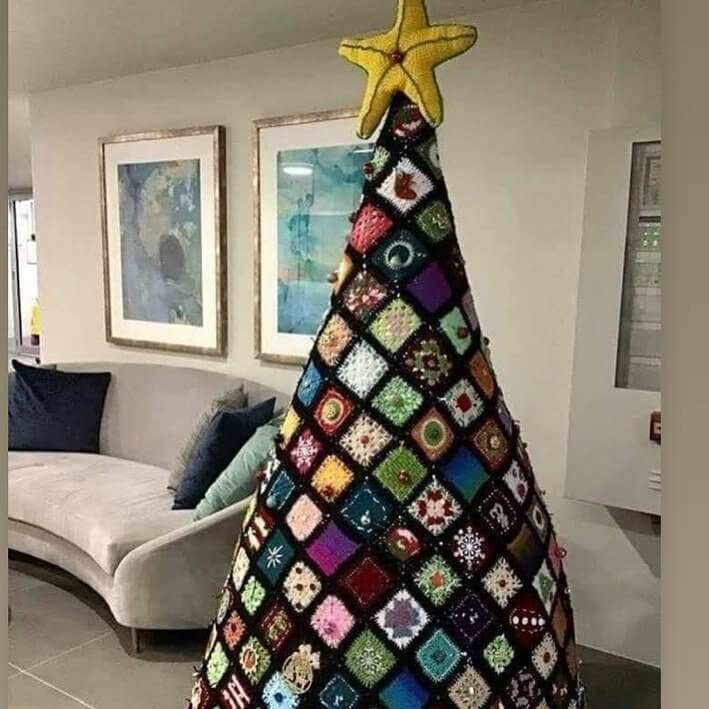 Quick tip, this is a great way to repurpose and display old family blankets over the holidays. For a lively centerpiece with a vintage touch, grab some yarn or a colorful retro blanket. If you examine closely, you'll find that each square resembles an ornament.
The Fine-Apple Tree
How creative is this spin on the traditional Christmas tree? To complement the pineapple theme, this tree appears adorned with black pompoms. This DIY craft will be fun and easy to put together, whether you discover a genuine yellow tree or purchase a white tree and spray it.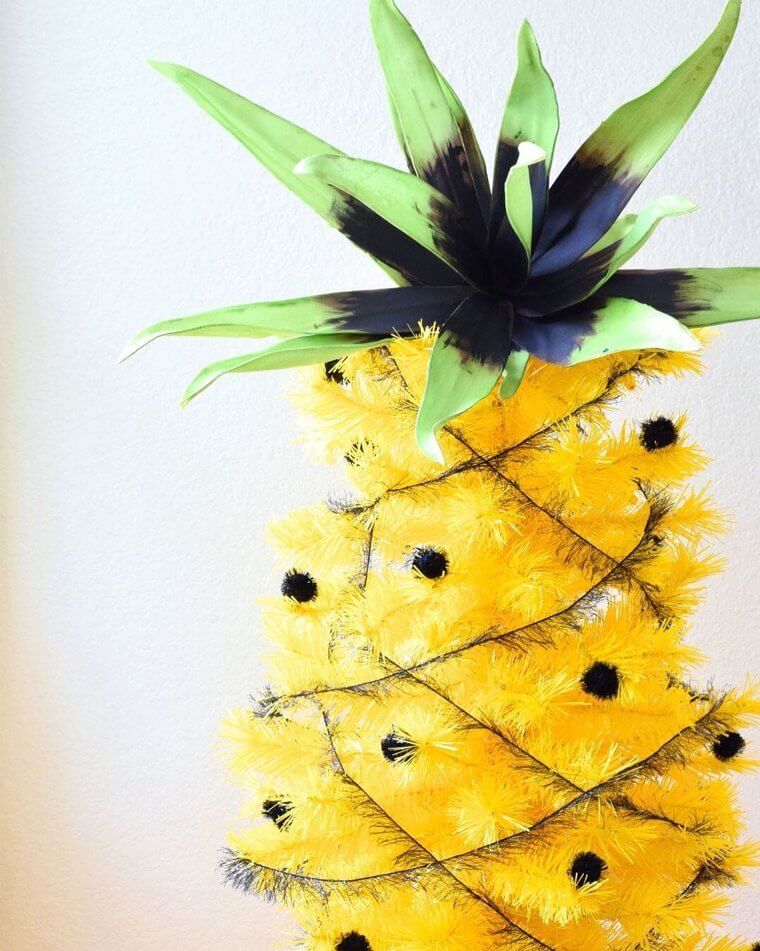 If you're a big SpongeBob fan, this tree was built just for you. Look no further than a DIY pineapple decoration to pleasantly welcome warmer weather into your house. It's guaranteed to add some brightness and happiness to the neighborhood. It'll be a great discussion starter when all of your friends come around.
Keeping It Faultless
Suspended and floating Christmas trees are incredible and ultra-modern alternatives to traditional trees and take up little room. Imagine these brilliant decorations floating over the floor; they appear lovely and light! You can also switch up the decor to make your tree visually appealing.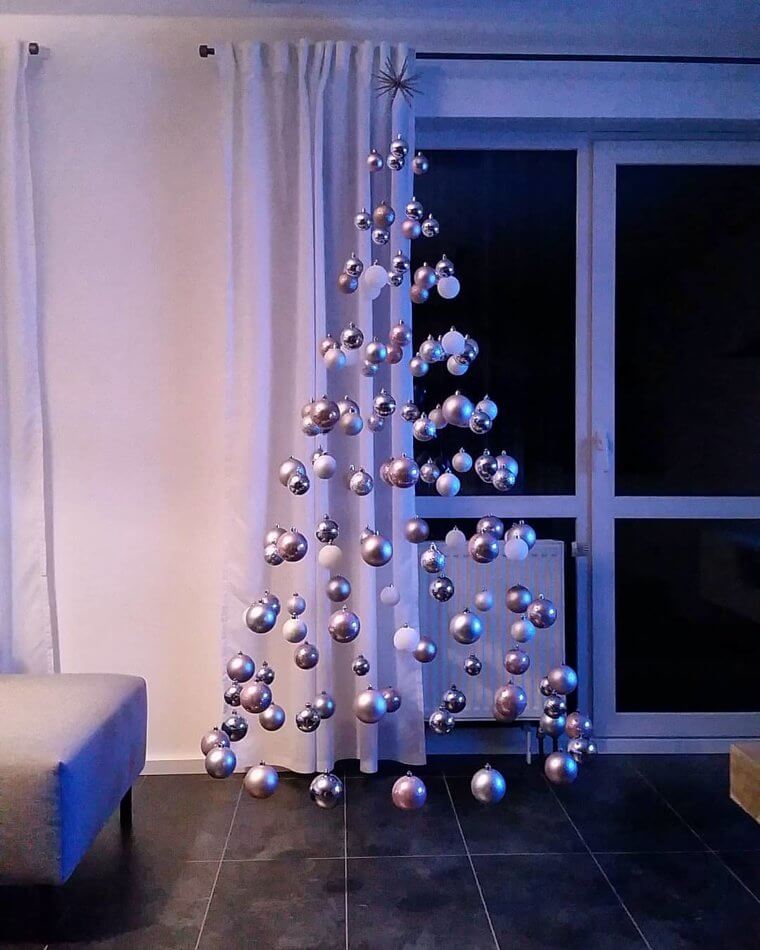 There are methods for making invisible or floating Christmas trees, but this one is faultless. While some may prefer a conventional tree, this one would blow your mind. Although making such a tree is not straightforward, you may still locate guides on the internet and try your hand at it.
Christmas With the Grinch
Firstly, let's take a moment to admire how ridiculously extravagant and *incredible* this Christmas tree looks. You have all of the decorations. They're large, loud, and downright annoying – just the type of decorations you'd see on a Christmas tree in Dr. Seuss' Whoville.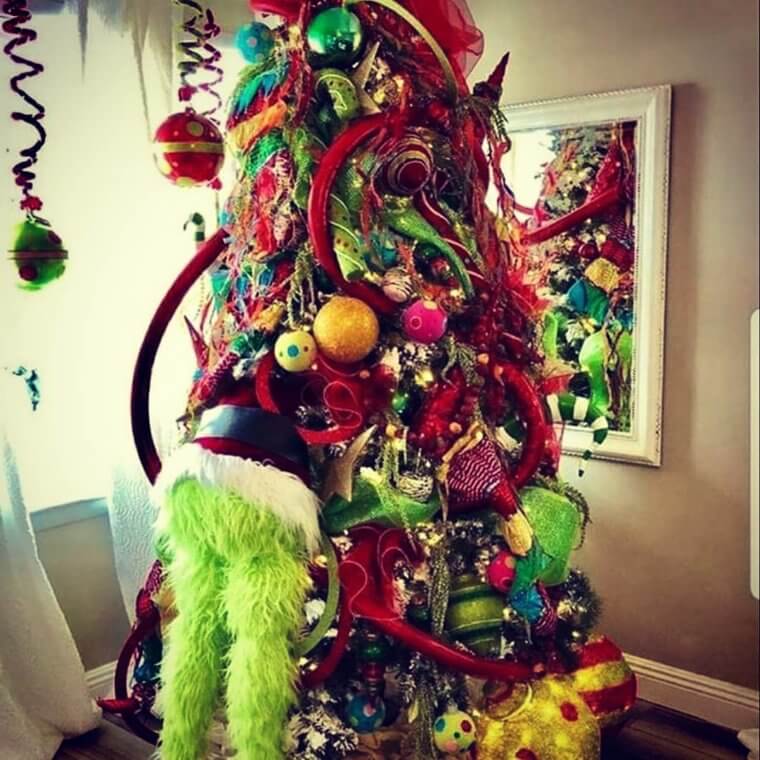 Then there's Mr. Grinch, waist-deep in the tree, preparing to blow it up the Chimney to his patiently waiting cart of stolen goods. If you're feeling cranky like the Grinch this holiday season, embrace this theme and make your trees shine! More importantly, make this a Green Christmas to remember.
Branch through Christmas
This tree will not resemble a standard Christmas tree. However, it will undoubtedly appear lovely and appealing to visitors. On the bright side, you won't have to deal with the aftermath of discovering pine needles between your toes for the next six months. And you may use them year after year if you like.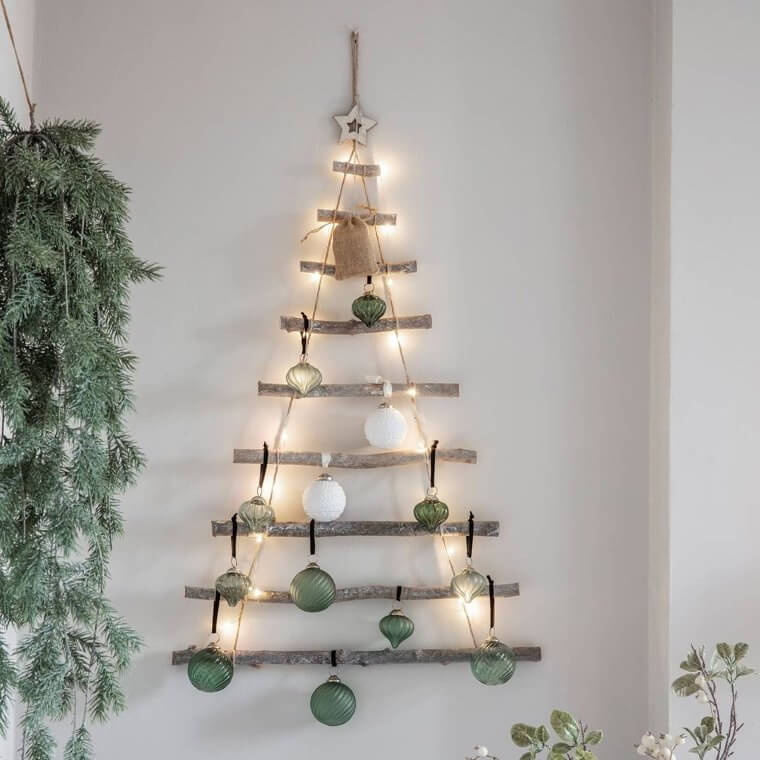 This tree is the gift that keeps on giving, and the good news is that you can still decorate your rooms with a different tree. Tie branches together and drape them with lights and other decorations. This ready-made solution is ideal for those who dislike tricky DIY projects.
A Healthy Holiday
The Christmas tree does not have to be made of pines. It might be a stack of nutritious veggies, and this tree does the job perfectly! It will look good in your grocery shop or your kitchen if you stock up on veggies.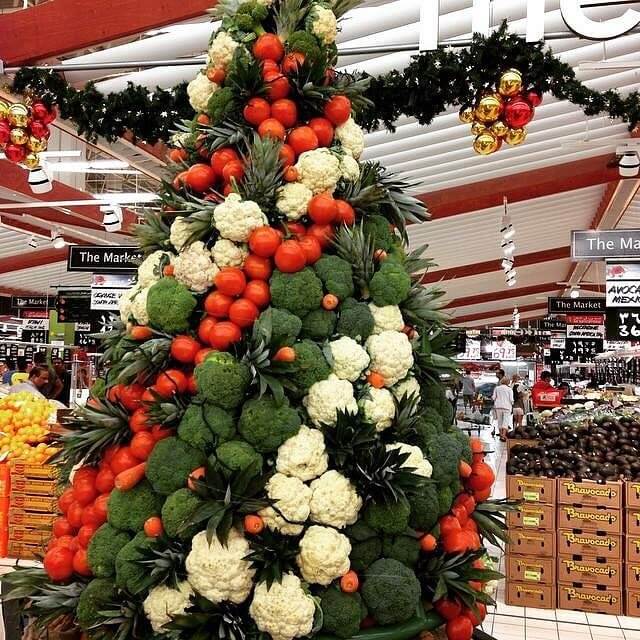 You'll enjoy a healthy and bountiful Christmas with this tree! One thing is certain: this will not be easy to take down at the end of the day. Thumbs up to the artist for using a variety of colors to create a unique and colorful look.
Crab-Free Xmas
The first mind-blowing Crab Pot Christmas Tree arrived in Morro Bay in 2016. Mostly famous for its massive rock, Morro Bay crafts everything in its­­­ own unique manner. This includes 15-holiday trees built from ancient crab pots, which have been brilliantly utilized into a gigantic Christmas tree.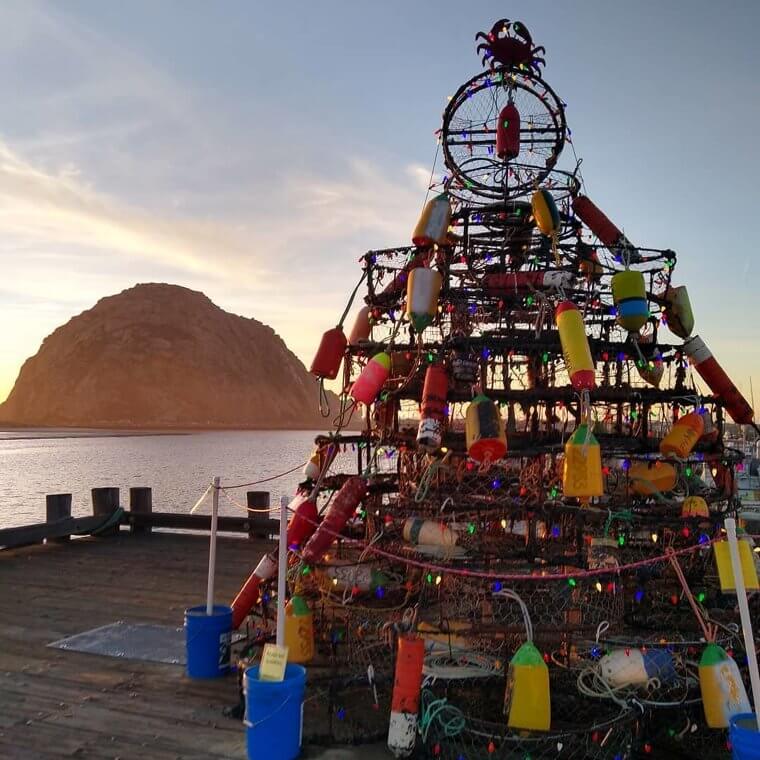 On the bright side, lobsters and crabs may join the holidays since these crab traps are utilized as a Christmas tree instead of their intended purpose. We also love how the other fishing equipment gives splashes of color throughout this massive tree. If you want a crab-catching tree inspo, then here's your pick.
A Tree For Every Size
This innovative shoe stack reimagines the Christmas tree. For some, Christmas is all about shopping. As a homage to shopping, a shoe store samples shoes here. This shoe store clearly knows how to decorate for the holidays, and we applaud them for their dedication to using products that they must have previously had on hand.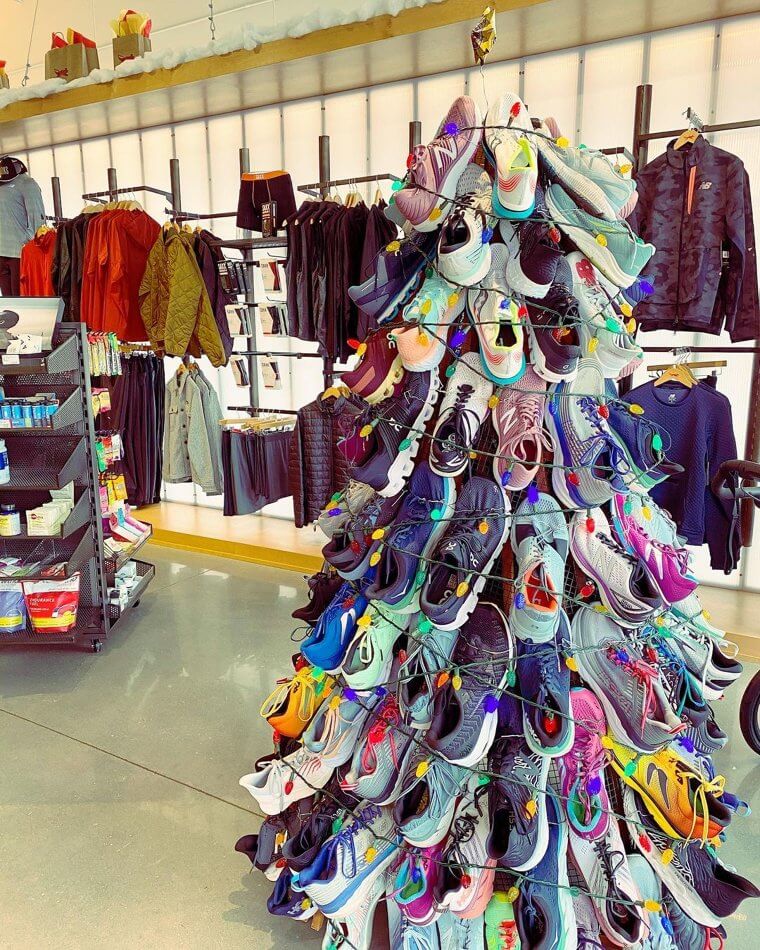 This cluster of shoes wrapped by a string of lights in a loose conical design may not appear very lovely from the outside, but you know what they say: if the shoe fits, make it a tree! If you stack and tie them correctly, you'll have a long-lasting Christmas tree.
A Fresh Christmas
One for effort and another for freshness! We're all guilty of being lazy at times. However, some lazy people take laziness to a whole new level. Some would roll their eyes at apparently lazy shortcuts, while others will recognize the genius of the entire thing.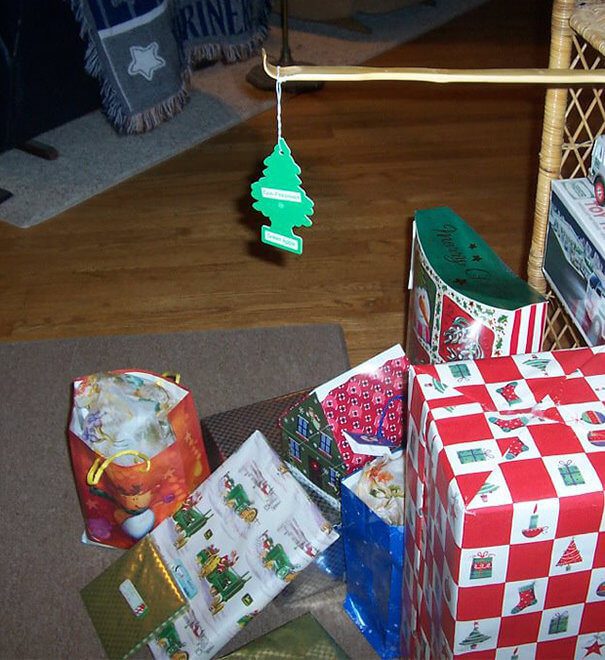 This family has a Christmas tree-shaped automobile air freshener hanging from a wooden backscratcher above a pile of goodies. They either did not want to implore Christmas expenses or employed their father's backup plan since they completely forgot about the important occasion. Nonetheless, it may assist in saving the environment from the usual ornamental mess.
Bass-ed On Popular Demand
Like any competent DIYer, this Reddit user and his wife created this musical Christmas tree out of their upright bass. While this is a relatively more expensive alternative than a real tree, it is an excellent space-saving solution if you have a huge musical instrument and a small room to celebrate.
We'd guess they don't expect any bookings during the holidays and surely don't have any kids roaming about. Still, with the inspo, you may make a beautiful Christmas tree with a gorgeous green garland and some decorations. Don't forget to add your stars!
The Pup-mas Tree
The holiday photos of these amazing pets are infinite, from standing in front of a Christmas tree to dressing up in tree-like costumes. Animal enthusiasts used their paws to play dress-up with their pets; the results are nothing short of wonderful.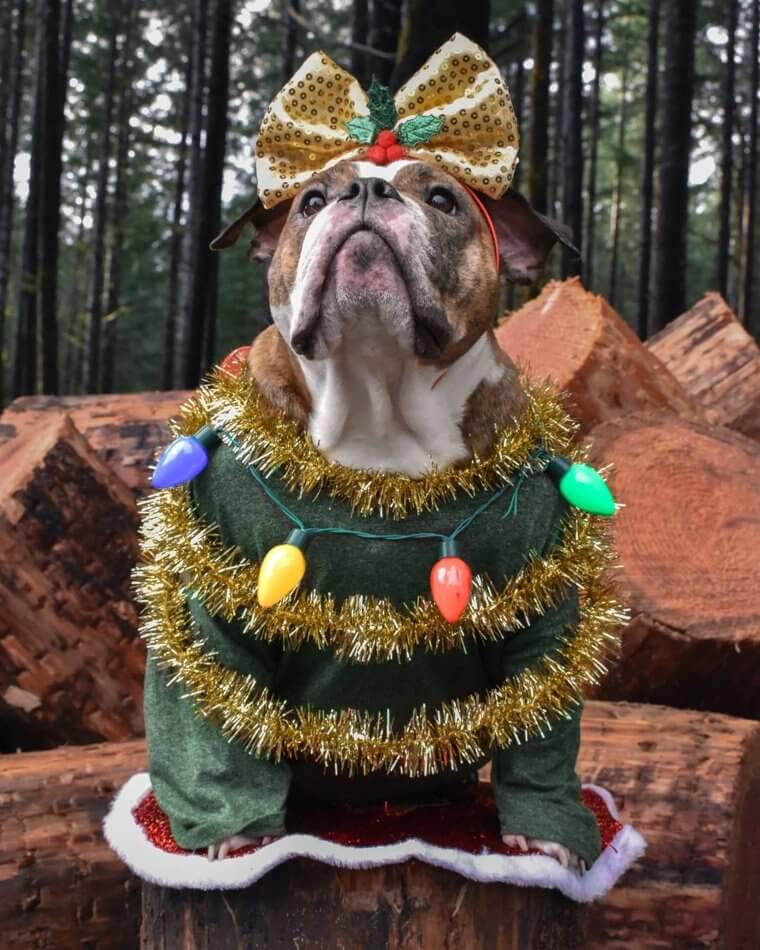 For this cute reason, we declare no Christmas complete without the obligatory pet Christmas shot. You will be able to hold your furry (or maybe wrinkly) buddy on your lap while doubling as a uniquely designed tree! Call this your mobile paw tree.
It's A Conjugal Christmas
All right, this is simply too fantastic, especially for someone who likes fashion or one who's looking to upcycle that dress in the closet… What could be more lovely than a tree twisted into the shape of a glistening bridal gown?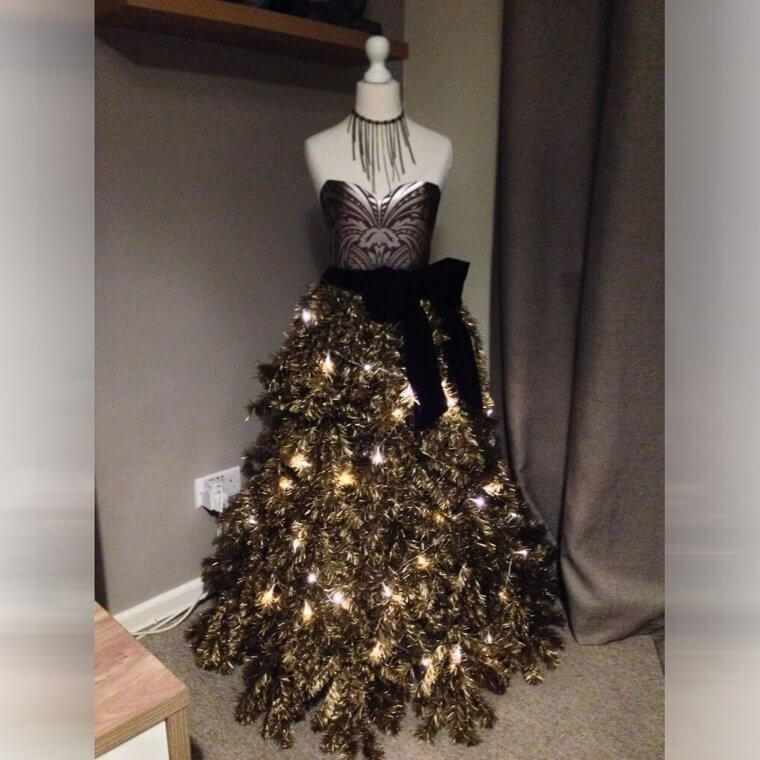 Now, if you could only find out how to imitate a stunning wedding gown in real life, it would be simply amazing. People appear to be decorating their Christmas trees like mannequin dresses. We find this concept enthralling, even though we might need some helpful tips to see this one through.
Sweet Little Christmas
All of the wonderful ornaments are our favorite part of decorating trees! We definitely enjoy looking at Christmas color palettes and being inspired! Christmas does not have to be red and green; it can also be SWEET! This lovely sugar-coated tree is both delicious and beautiful.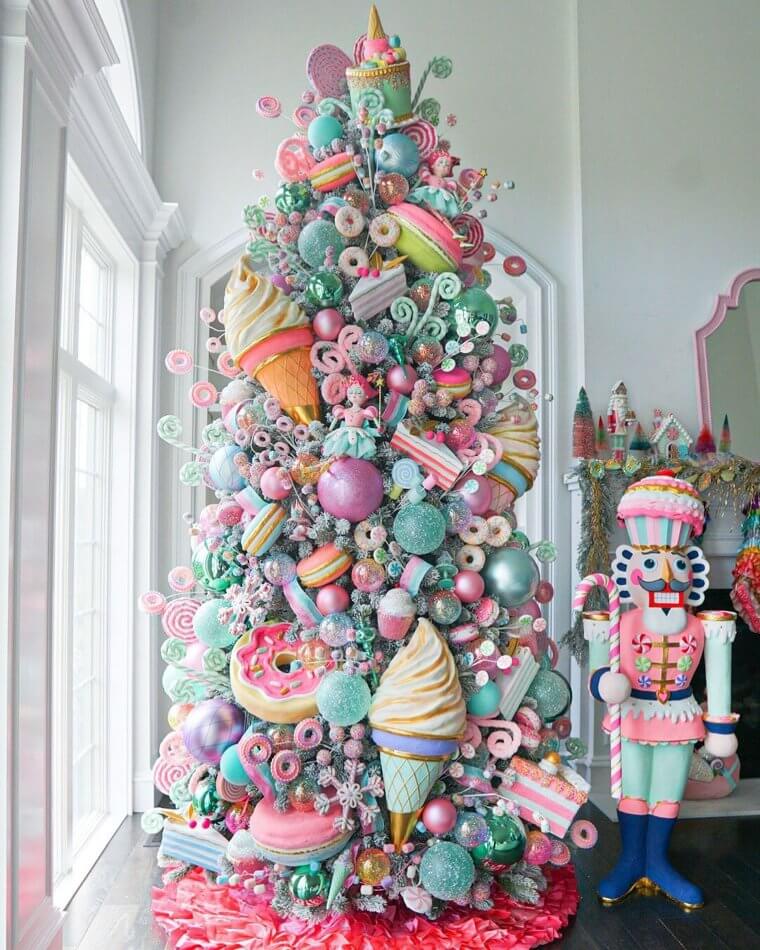 Candy cane trees are a festive way to enjoy the holiday season. The candy canes scattered among the branches offer tiny touches of festive sweetness. But with extra touches of frosty and ice creams, this tree looks absolutely sumptuous. It features a new color palette for Christmas decorations.
Legoland Christmas
Planning a Legoland holiday is enjoyable whenever you have free time. But what could be better than viewing the incredible Lego-themed Christmas trees with a bunch of Lego gifts across the base? Quick info: "Lego" is derived from two Danish words that mean "play well."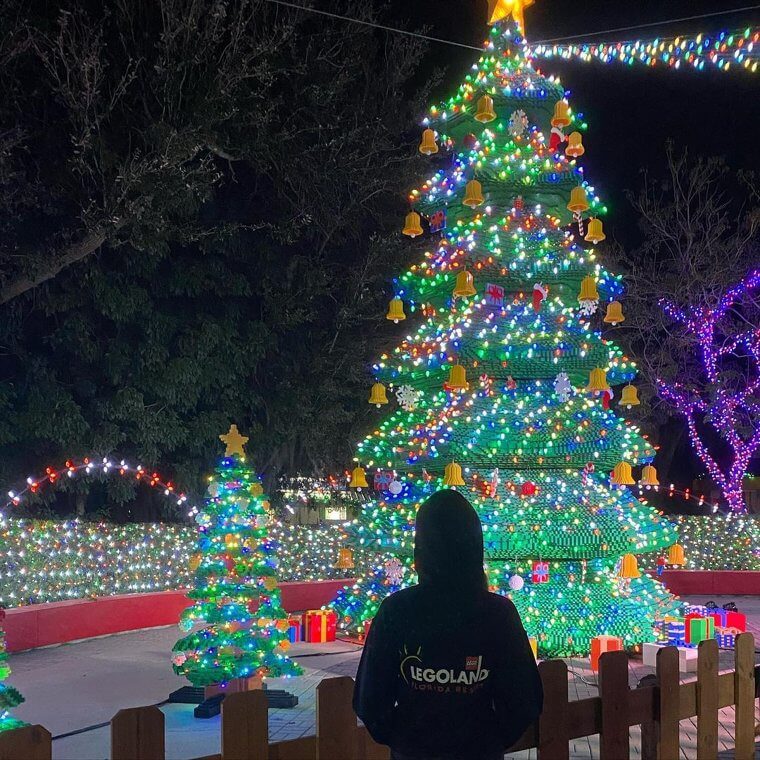 The 30-foot LEGO Christmas Tree is known for its dynamic lights, music, and snow. It is one of the holiday attractions of Legoland, Florida. This tree, complete with bells, ornaments, and a star on top, is everything typical Christmas fantasies are made of.
Upcycle the Christmas
Some of the original environmentalists were pioneers. Nowadays, most people recycle, and though one person's garbage is always another person's treasure, some folks have better creativity than others. While glass bottles may appear useless to some, you can showcase that we can construct a magnificent tree out of them.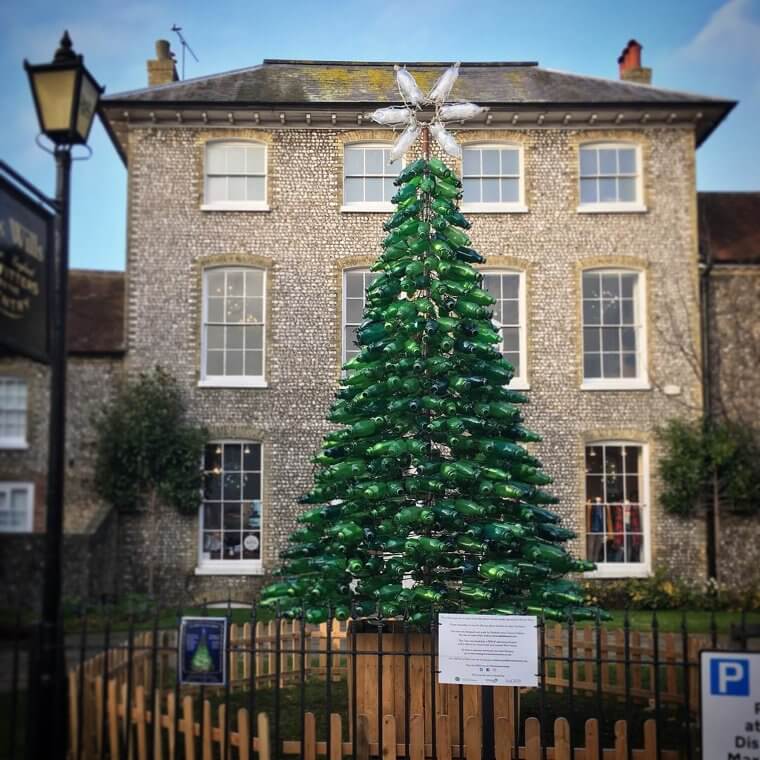 Because of the color, this tree will portray the real deal. Even though it resembles trees, only the original trees can give the necessary protective nature. Since they require glasses, we advise only adults to build them. Have fun exploring the different shapes and designs that would lighten up your space.
A Double-Sided Christmas
We're unsure if this one was birthed from love or a disagreement. Still, it is unquestionably the outcome of a healthy compromise. Instead of bickering about the holiday decorations, a husband and wife decided to divide the honor. The lights are cleverly distributed throughout both sections of the tree.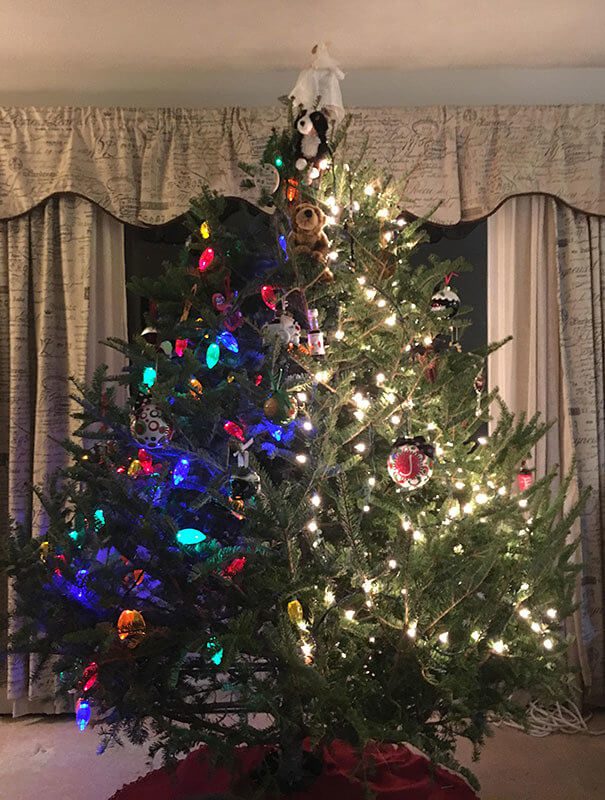 While one partner went all disco on their end, the other opted for elegance and minimalism. Though there's equal creative expression, that is a really chaotic topping. We can't tell if it's a dying star, a handkerchief, or a puppy carrying a veil. Whatever it is, don't be afraid to let your imagination go wild.
The Holiday Knight
Rather than consistently using the trees that occasionally come with ornaments, bring a knight who might grant you more freedom and keep you safe throughout the holidays. Look at this magnificent knight, prepared to help any unfortunate damsel! Combine with an owl for a gallant adventure into the Warfield.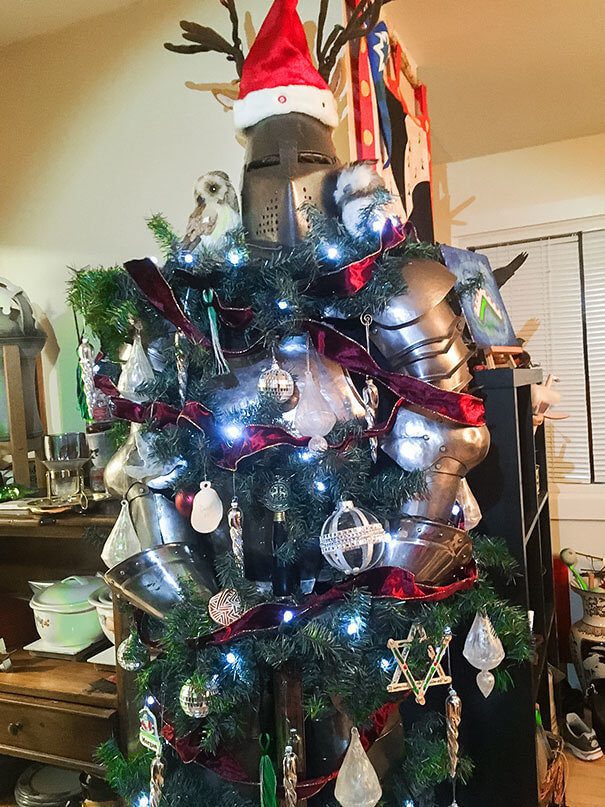 Although he'll guard the palace with his gleaming armor, is it Christmas if there is no Santa ornament? Add a little Santa hat to your knight to celebrate the occasion. Your children will be delighted! If his armor is sufficiently gleaming, you may not even need to add lights.
Trees, But With A Twist
As the year draws to a close, we've done a lot of decorating. This time, crafted with perfect tree pieces and monitor displays, is one of the nicest office renditions of a Christmas tree we've ever seen. We commend the usefulness of a fast and straightforward clean-up once the holidays are over.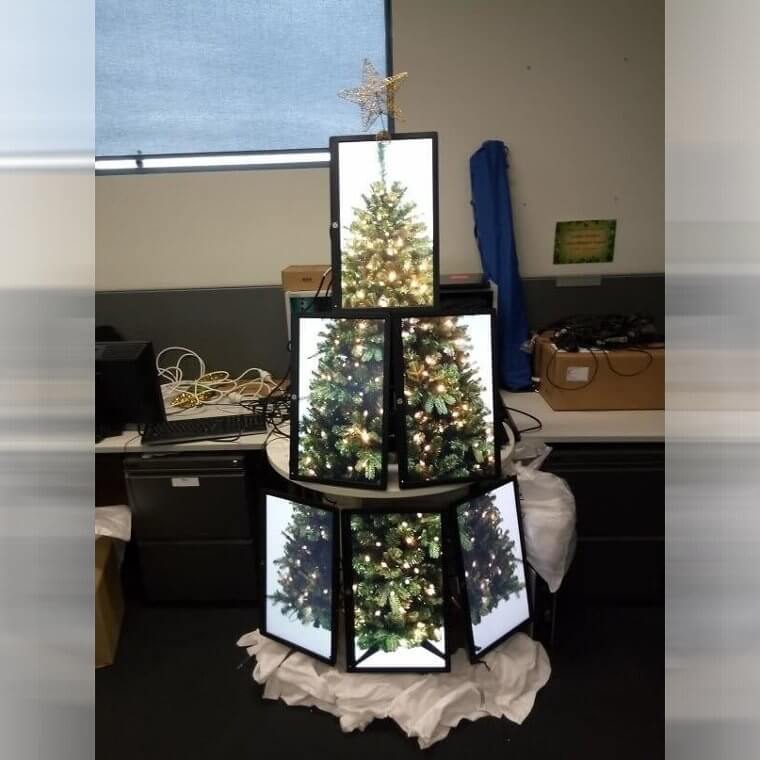 Good news! If you feel like using new ornaments one day, this tree can be modified as wanted, so be sure to touch up your trees with some jingle bells, lights, and, of course, a star. This IT guy has to be a pretty amazing and entertaining dude to hang out with at work.
Recycle Christmas
You might have to stare a little longer to realize that this tree was made from a bunch of painted coconut shells! There is absolutely nothing minimal about this one. The creator has put together a fantastic tropical display for the holidays.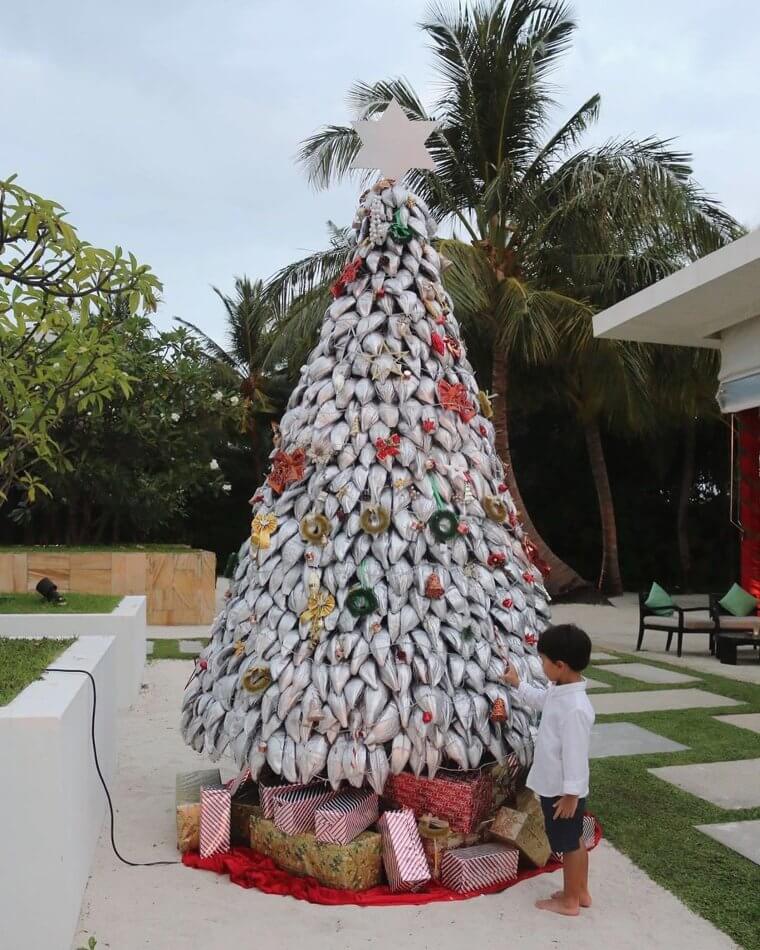 You might opt for an eco-friendly décor for this year's Christmas. What natural materials are available in your area that may be transformed into a Christmas tree? Perhaps seashells on the beach or beautiful rocks in the mountains? The options are limitless!
Fairy-Lit Christmas
Let's be real for a second. Our urban apartments can barely fit a two-seater couch, let alone a six-foot tree that hides the TV. So, while a real tree may not be in the cards this year, you won't be losing out on the glitter and fairy lights.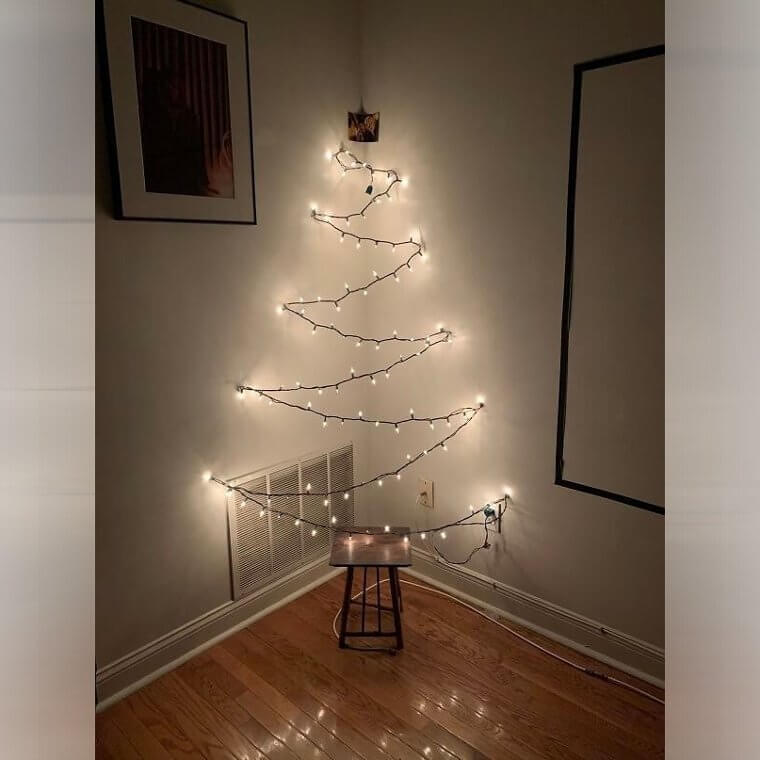 This charming space-saving option gives you multiple chances to show off your creativity. This clever arrangement of brilliantly adorned string lights makes excellent use of a corner area that is sometimes overlooked in almost any house room. Throw in the fairy lights and a nearby power outlet, and you're good to go.